Thanks to the fender bender we were in a few weeks ago our car was in the shop getting worked on. Thankfully we weren't to blame for the accident, not that we were surprised, we were stopped at a red light when a lady ran into us so obviously that wasn't our fault. So the other insurance company had to get us a rental car. We figured we might as well make good use of having someone else's car and put some miles on it! So off to Vegas we went! We didn't have much time so it was a really quick trip, but so much fun, and really when you're LDS and have two kids there isn't much you can do there so the few day light hours we were there was plenty. We got a fabulous deal from priceline, we stayed at the Planet Hollywood resort for only $50, our room normally goes for almost $200, I guess that is one good thing about the economy right now!
Best part of the trip for Andy:
Eating at Bobby Flay's restaurant Mesa Grill, this was one of the biggest reasons we went. It was a dream fulfilled for aspiring Chef Andy... and holy cow the food was to die for!!!!!!!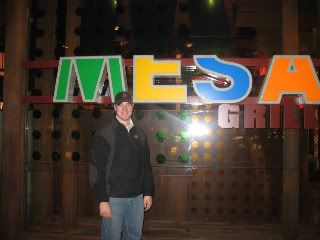 Best part for Sarah:
Finding my identical hand twin... NICK JONAS!!!!!!!!!! All the 12 year old girls are so jealous. "This hand is my hand, this hand is your hand, no wait that my hand, oh no it's your hand"
Best part for Talan:
Playing in the bubbles in the fountains. He would reach his hand in to pop them and then scream "I got it!"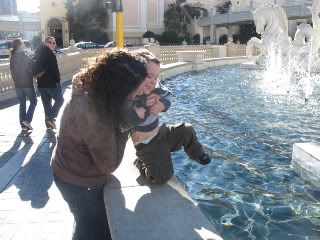 Best part for Cohen:
Figuring out that putting a blanket over your head is a really funny joke. He did this himself and couldn't stop laughing about it.
We got in the car to head to the other end of the strip so we could take Talan to Circus Circus. We had been driving about 30 seconds, looked in the back, and saw this:
Andy and I looked at each other and knew it was time to head home. It was a great quick trip to celebrate our time as a family before Andy disappers for another few months into the abyss known as school. Wonderful family memories to last a lifetime.