I graduated high school in 1999. I started going to Ricks College only weeks later. I graduated from Rick's (yes it was still Rick's that's how long ago it was) in 2001 with a two year degree. Now it's 2009 and I FINALLY finished my 4 year degree!!! Is it still a 4 year degree if it took 10 years to do?
What took so long you ask? Well since Rick's I: went on a mission, got married, and had 2 children. All of these things plus changing majors and minors makes for a long college career. However, I'm so proud of myself for actually finishing. (yes, I'll go ahead and toot my own horn, toot toot!). When I found out I was pregnant with Talan I had only a few classes to finish to get my degree. But I wanted to take a break so I could focus on my baby. I didn't go back until I was pregnant with Cohen. It was SO embarrassing walking into a classroom 38 1/2 weeks pregnant on the first day of class. I couldn't even fit in the dang desk and I almost walked out, thankfully I had Cohen the very next day so the next time I went to class I at least could sit down like everyone else.
I honestly don't know how I made it through my last two semesters. Andy and I both had full time jobs, we were both going to school, and we had two children. I'm so grateful for online classes, my work from home job, and my sister Heather for babysitting the 20 minutes that Andy and mine schedules overlapped. And more than anything I'm glad to be DONE! On my Senior Graduation Survey the University asked everyone to fill out they asked what I plan to do with my degree. I was proud to write "Use it as an example to my children as I raise them as a stay at home mommy!"
The look on my face describes how I feel about graduations... I think they are boring, boring, boring... but hear people cheer at just the mention of my name was cool.
Talan HATED my hat and refused to be anywhere near me or even look at me while I had it on. He screamed all day "Mommy hat OFF! hat OFF!" These are our attempts at getting a picture with him:
Once I took the hat off he let me hold him... but only for a moment
Cohen however was fine to let me hold him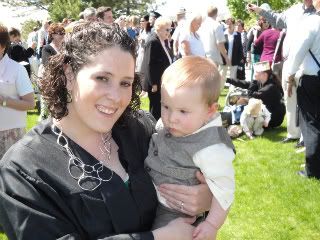 With my biggest supporters, Mom, Dad, and Andy of course!!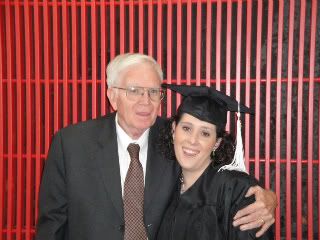 After the ceremony was over and I had the cap and gown off Talan snuggled right up to me and forgave me for wearing such a horrible costume
Andy and I on our way to dinner to celebrate ME!