Like all my blogs this is a little late. :)
On August 26th our little man turned 1! What a great year we've had with our little man. He is such a joy and brings smiles to everyone he meets. He loves to make faces so that people will laugh and gives the best (and most painful) hugs and kisses ever.
On his actual birthday Andy had school and work all day. So to celebrate we met up with daddy during his short lunch break at the Sargent's favorite family friendly restaurant Noodles!!! Our rule is no sugar for the first year so Cohen was very happy to get a giant rice crispy treat all to himself!
Then we went to the park for Cohen's favorite past time... swinging!!!
Then that Sunday we had a family party for him in the park. The weather was perfect and everyone had a great time!
Mommy with the birthday boy before the party started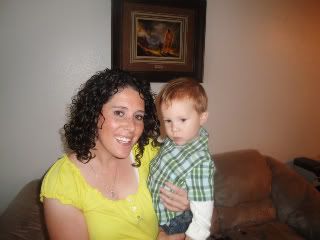 The smash cake... before the smash
Talan was very interested in the cake... and snuck a taste
But... he wasn't very sneaky...
Cohen didn't eat much of the cake, he had a bite or two and was done, but he did have fun smashing it!!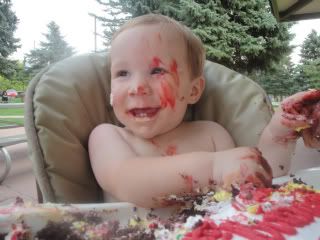 But that's a big cake for such a little guy!!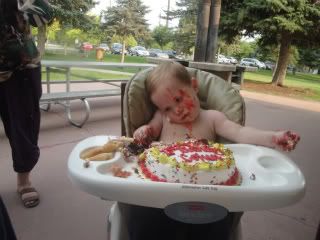 It was a great day! I love you little man!