Whoops... guess I didn't update the blog for a bit... let's just move along.
As you can imagine a lot has changed for us in the past 8 months. So here is our life in a nutshell..
The biggest change (and most noticeable) we finally moved out of the tiny tiny apartment we were in and moved into a cute house!!! I love love finally having a home! It's been an awesome change for us. Home sweet home: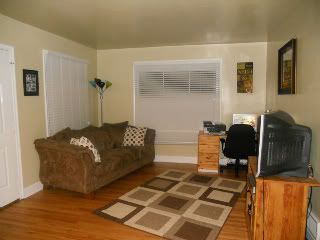 Along with a new home Andy and I both changed jobs. Andy is now working at
Trio
and loving it. He decided to change places to help strengthen his resume a bit before the big job hunt begins once he graduates!!
I finally am working my dream job as a full time stay at home mom! It's so nice to not have residents coming over all day long and trying to work around being a mom. And my kids are much happier to have my full attention.
Talan (seen here in his favorite pirate sunglasses) is FINALLY fully potty trained both day and night!!
Cohen turned two right after we moved, so we had a small family party for him at our new house!!
He's addicted to all things Thomas and is a very loving kid. He gives hugs and kisses all day. He still doesn't say much that we can understand but talks in his own language all day long!
Well... that's the reader's digest version of the Sargent home. I promise it wont be another 8 months before I update again!!!