Did you have a fun Halloween? We sure did! Let me just say Halloween isn't really my cup o' tea. BUT with kids it's a totally different game and now I love it.
So here's a run down of our many Halloween activities:
1. Pumpkin Carving
Talan getting the guts out
Andy doing all the real work
Mine - he's winking
Talan's (carved by Andy in the likeness of Curious George... see the resemblance???)
And I don't know what happened with this one... Andy did it
Why are there 3 pumpkins when there are 4 of us??? Well Talan decided that was all we could get... literally. He threw a fit at the store and made us put the 4th one back.
2. We had a kitchen fire
We had to pull out the extinguisher and everything... but we still had time for pictures of course
3. We went to Wheeler Farm for:
A hay maze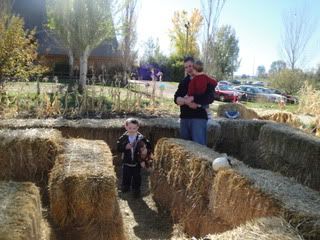 A Wagon Ride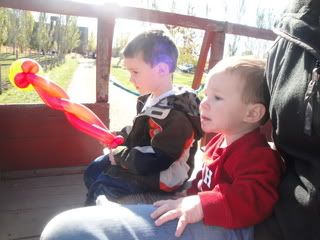 And Talan's first pony ride!!!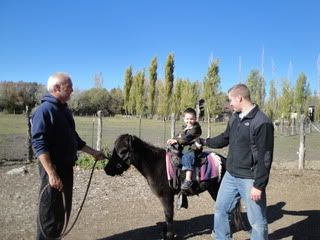 4. We got all dressed up
Talan the train
Cohen the Dragon
Daddy the cook (ok he really WAS a cook... he had to work)
5. We met up with the cousins and went trick or treating!!!
Best Halloween ever! Talan really got into it and had a blast running from house to house getting candy. Makes me a fan of Halloween... maybe next year I'll even dress up... maybe.