This week my company had their summer party at Lagoon. Even though being 28 weeks pregnant and walking around in the 95 degree heat while watching people go on rides doesn't sound like my idea of a fun afternoon I decided to put on a happy face and go so Andy and Talan could have fun. It turned out to be a really fun day for all of us!
When we first got there I was nervous about what should be Talan's first ride cause I didn't want to put him on anything too scary and then have him terrified to go on anything else for the rest of the day.
We saw a cute little ferris wheel that was going slowly so we figured that would be perfect. What we didn't realize until Talan was strapped in was what we saw was just the loading and unloading of the ride. Talan was the last one on and suddenly the ride TOOK OFF. It was spinning so fast!!! Talan was grabbing on to Andy the entire time but by the second or third time around he was smiling and saying "up! up! up!". Here are pics of the first ride:
Waiting in line:
A little concerned before it started: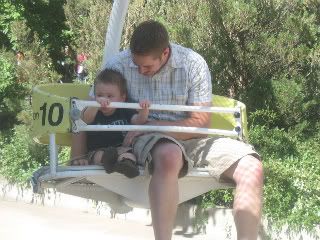 Dad is excited!
After the ride he wanted to get off ASAP. I actually had to ask them to let him off before his turn
After the ferris wheel we tried the merry go round. He was really excited in line, but once on the ride he had to sit waiting on his horse for over 5 minutes... which is way over the threshold of patience for a one year old. So he was pretty ticked
Dinner time!
Andy won him this hat by throwing a baseball 66 MPH, he did it on the first try! I was rather impressed!
His favorite ride by far was the train!! He got to sit next to his cousins which he loved cause it made him feel big. He kept looking out of the wrong side of the train though so he missed all the big animals. But he was excited just to see the ducks, he kept saying "quack!".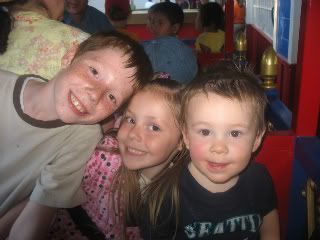 After that the batteries in our camera died :( but we were there till past 10. I was surprised Talan was able to stay awake that long. It was a great day!