Monday, December 31, 2007
Monday, December 17, 2007
Two years ago today I married my sweetheart Andy. I can't believe that 2 years have passed already, and at the same time I can't believe it's only been 2 years. So much has changed for us! We have both changed careers and live on the opposite side of town than we used to and of course the biggest change... we have a child now. LOL

Unfortunatly I am sitting alone on our anniversary since Andy had to work tonight. But we celebrated last night. We had our first full night away from Talan. We dropped him off at Grandma's and headed off to here: www.castleutah.com

We stayed there on our wedding night and it is my favorite place on earth. We stayed in the Garden Suite: http://www.castleutah.com/garden.htm It was beautiful!!! We had french doors that led to our own private terrace with a trail leading through the trees to the river out back.

We had a wonderful time. It was nice being just the two of us again. I am so happy I married my best friend, he makes me laugh everyday!!
Posted by

Sarah
at 8:07 PM
2 comments:

Wednesday, December 12, 2007
I've been so excited to take Talan out in the snow. He is so funny. Every time he sees it falling from the sky he laughs and just stares at it. So a few days ago we got him all bundled up to go have some fun!!!!
While getting ready he couldn't stop laughing... he thought it was hilarious that we kept piling the clothes on him. When we were done he totally looked like the poor kid in A Christmas Story who couldn't put his arms down.
We tried to help him walk in the snow when we first got there
But crawling is so much easier!
It was so cold! I tried to get Talan to snuggle with me to help me keep warm, but he just wanted to play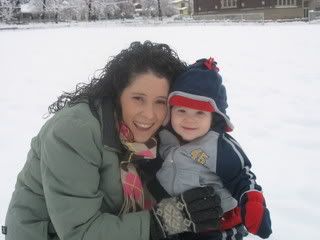 Andy started playing their favorite death game together, it's called toss the baby. He started throwing him high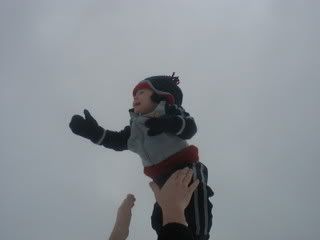 And higher
And really high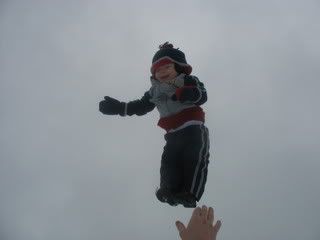 And then WHOA Where did Talan go?!?!?!?!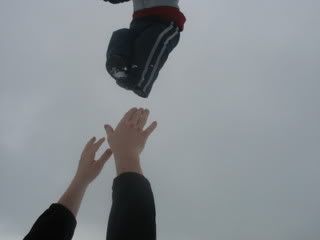 I don't suggest you try that at home. We had such a great day!!! I'm glad that Talan had a fun time.
Posted by

Sarah
at 10:03 PM
3 comments: