A few months ago my job contacted me with an offer to move to a new complex. It offered a lot more money and a huge fenced in back yard for the kids, but a much smaller apartment. It was a very hard decision for us to make. But in the end we decided the pros outweighed the cons and made the big move. It was the right decision for sure. The kids are so much happier here. Talan has made so many friends and they get to run around and play all day long instead of being cramped inside all the time.
So here it is: Our New Home!!!!
Living Room: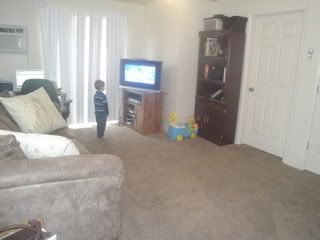 Our couch set was too big so we sold it and got this brand new one:
Kitchen, which is actually much better than the one in the last place.
Bathroom:
Boys room:
See this dresser? It used to be an ugly old beige thing with gold knobs. I repainted it and did those cute baseball knobs.
See the name plates? I made them
See the cool balls on the walls? Those are actually floor mats. I found them in the dollar bin at Target and decided they'd be awesome for their wall.
Why is there only one bed when we have two kids?? Andy and his dad are building toddler bunk beds for them to use, so until that time Cohen is sleeping with us. *sigh* not my favorite thing.
And finally the best part of the house... the back yard!!!!